Your Way In, Your Way Out
• Can be seen from many directions, if you get turned around, you can get right back on trail
• Field tested and lab tested to be brighter than other trail markers
• Lasts for years, tough, durable, weatherproof, reusable
★★★★★

I use fire tacks to get me safely out of the woods at dark after hunting. I shine the flashlight and it is like having street lights lead me out of the swamp and woods. Love them!!

Robert C.
★★★★★

Not only are the products amazing so are the people. Even when I made a mistake they were kind and went above and beyond for me.

Ashley V.
★★★★★

Great Tacks. I use mostly the brown stealth tacks that are pretty much invisible during the day but very visible in the dark when a flashlight is used.

Glenn S.
★★★★★

Makes getting to the stand much easier even with low powered head lamp. You will not regret your purchase...

Thomas M.
★★★★★

The anxiety of finding a stand deep in the woods in pitch black night is no longer a problem. Getting lost is no longer an option!

John S.
★★★★★

These things are unreal bright at night. A huge upgrade over marking trees with ribbon. Customer service is also top notch!

Cory B.
★★★★★

Love these little guys!! Bright as hell! I bought the stealth ones and I can't even find 3/4 of them during the day. This is the first year using this product and I can't believe how quickly we got into our blind and tree stand! I will be a customer for life!

Brad G.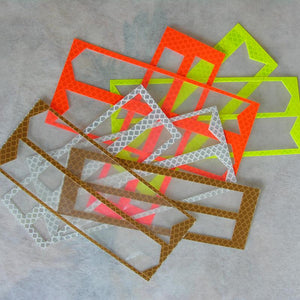 Great products at great prices!